21st Century Wedding Trends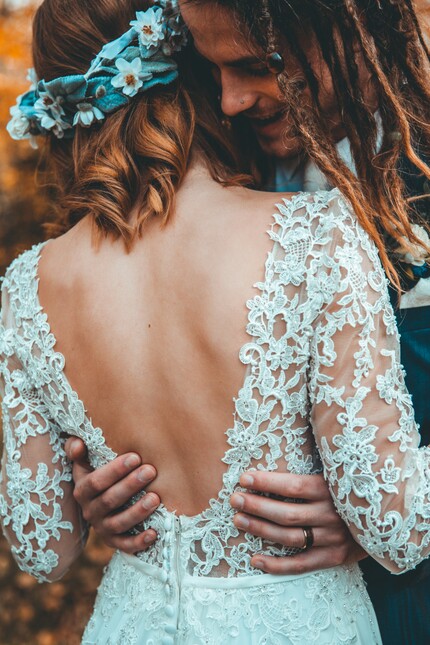 Personalized Weddings
This is one "trend" that seems here to stay. Many couples make a concerted effort to plan weddings that express their personalities and interests. Marriage ceremonies often blend elements that have special meaning for couples, especially multicultural or inter-faith weddings. Intimate and individualized, today's couples look to signature colors, monograms (their first initials), and motifs to set their theme, starting with their save-the-dates and invitations, and carrying through to their programs and seating cards.
Sharing the Costs
Wedding expenses are no longer the exclusive responsibility of the bride's parents but frequently are shared by the couple, the groom's parents, or any combination of the three. More and more couples, especially those who are well established in their careers, pay for their weddings themselves.
High Tech Weddings
The Internet plays a huge role in registries, vendor selection, and even invitations. Wedding websites are the perfect place for photos of the couple, travel information for the wedding, and registry links. For some events, such as bachelor/ette parties or showers, an emailed invitation among close friends could be convenient and appropriate, but emailing wedding invitations and thank-you notes is still an etiquette faux pas—paper please!
Save-the-Date Cards
Save-the-date cards are fast turning from a trend into a tradition. It's not necessary for save-the-dates to match the other wedding stationery themes, making them the perfect place for couples to get as creative as they like. Mail to guests as soon as the wedding date is known (the location may also be included), but know that any guest who receives a save-the-date must receive a wedding invitation.
Colorful Weddings
Traditional white or ecru still reign, but color is blooming not only in bouquets and floral arrangements but also in brides' and grooms' attire, invitations and announcements, reception decorations, table linens, and wedding cakes. Once taboo, black-and-white themed weddings are popular.
Encore and Family Weddings
Nearly forty percent of today's weddings are "encore" events, meaning that the bride, groom, or both have been married before. More remarrying couples with children are actively involving them in the ceremony. This can be reflected beautifully in the invitation and program wording, setting the family tone for guests.
Social Media
Social media, such as Facebook, Twitter, and Instagram, are deeply woven into the fabric of our everyday lives and extend naturally to sharing wedding news. Image sharing sites such as Pinterest can help organize all your wedding visions and inspirations, making wedding planning easier and more fun. Just be sure to avoid oversharing, especially in the early days of your engagement when first sharing news and plans about your wedding. Many couples also set social media guidelines for their guests to keep their wedding ceremonies private.
The Wedding Weekend
With so many guests coming from afar, many couples schedule events that bracket the wedding day for their wedding party and guests to take advantage of the fact that their closest friends and family are already gathered together.
Destination Weddings
Couples continue to invite guests to join them in exotic, romantic, distant locations for their wedding day, with many guests turning the trip into an opportunity for a longer vacation. Even when the wedding is in your home town, there's a good chance that it will involve travel plans for many of your guests.
Good-bye, Bridezilla
We happily wave good-bye to the imperious, self-absorbed bride; instead, couples are as focused on providing a meaningful, memorable experience for their guests as they are for themselves.
Timeless Traditions
Some traditions never go out of style. Brides still wear "something old, something new, something borrowed, something blue." A few other traditions that hold true: No mention of gifts, even "no gifts, please," is made on a wedding invitation (sharing a wedding website on an enclosure is fine, and that site may offer registry information). Because it is one of the most personal and special of all invitations, wedding invitations should always be hand addressed and sent through the postal mail. This doesn't mean it's necessary to hire a calligrapher; neat clear handwriting fits the job nicely. Thank-you notes, too, are personal expressions of your appreciation that also call for pen, paper, and a stamp.
Categories
Recommended Articles