Guide to Using Pronouns and Properly Addressing Our Gender-Diverse World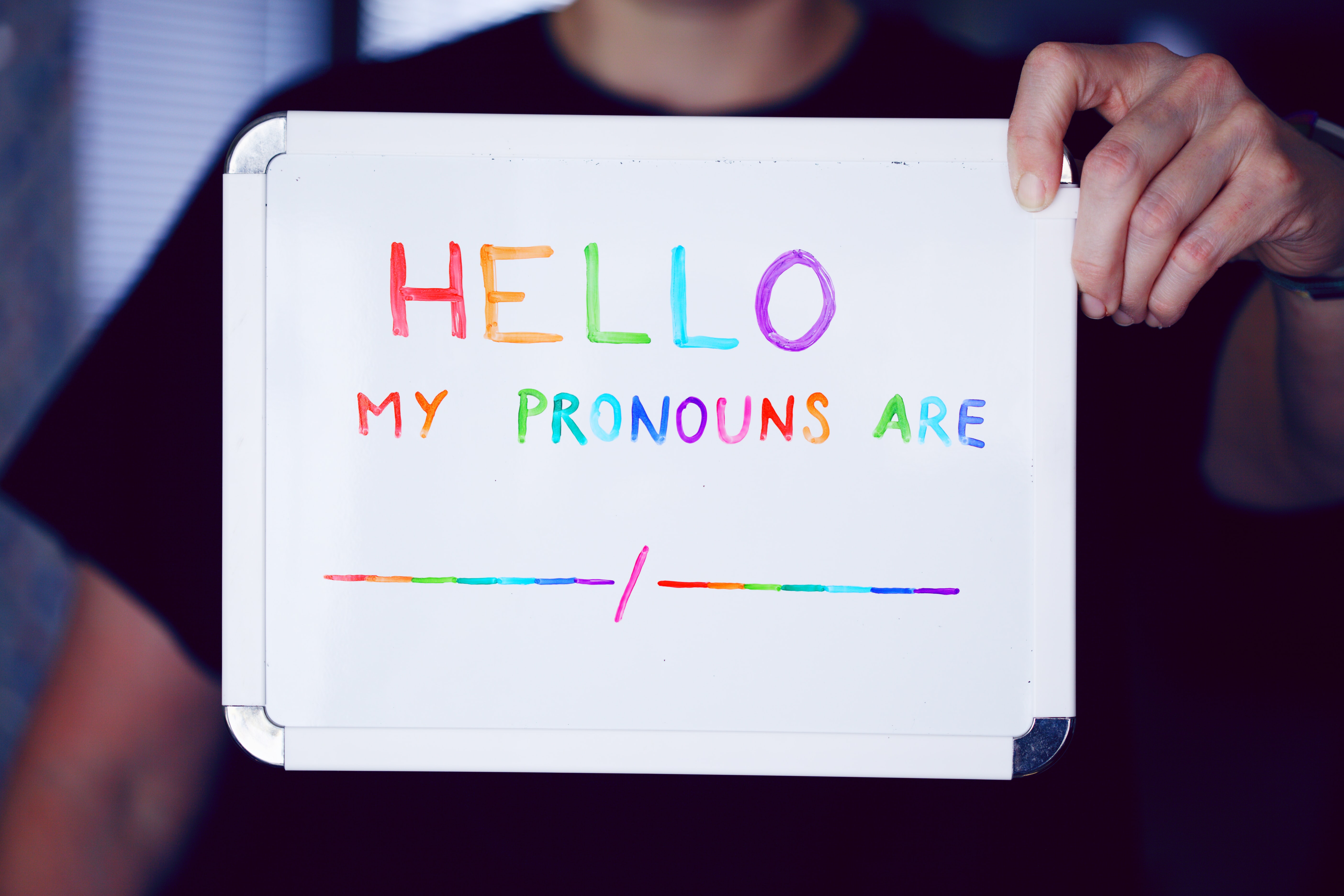 It is essential to good etiquette to call people what they want to be called.

Respecting an individual's identity is one of the most important aspects of good etiquette in our culture. Many of us have felt the disrespect and hit to our self worth when someone tries to call us by a name that isn't ours, or use a title that we don't identify as and it's worse when they insist upon doing it even after being told the correct way.
Just like names and titles, recognizing and respecting gender identity is key to a good interaction and part of this is getting someone's pronouns right. Using an individual's correct pronouns and recognizing that you cannot tell someone's correct pronoun just by looking at them are two important steps toward being respectful. Referring to somebody by the wrong pronoun creates an inaccurate impression of who they are and can lead to them feeling dismissed, invalidated, and disrespected.
And because it is essential, it will always be polite to ask what someone's pronouns are if you haven't been given them or if they haven't been alluded to during an introduction. "Kai it's wonderful to meet you, may I ask what pronouns you use?" Kai, is likely stoked that you thought to ask. Asking should never carry with it the assumption that someone should have known. In a world that is both gender and style diverse, it's both practical and polite to ask, and it would be rude to assume.
Pronouns Today
The most common personal pronouns we see and hear used today are she/her/hers, they/them/theirs and he/him/his.
The most common pairings between gender and personal pronouns are:
Those who identify as women use she/her/hers.
"This is Lindsay, she is my coach. This is her horse and Tots, the dog, is hers too."
Those who identify as men use he/him/his.
"This is Franklin, he is my coach. This is his horse and Tots, the dog, is his too."
Those who identify as gender non-binary or gender neutral as well as anyone identifying as men or women, use they/their. It is correct to use "they" as a singular pronoun.
"This is Ryan, they are my coach. This is their horse and Tots, the dog, is theirs too."
While they/them/theirs are widely used for those who identify as gender neutral and gender non-binary, these aren't the only options. Neo pronouns, Xe and Ze are two options that have also been more widely adopted. Scroll down for more on neo-pronouns.

Using Personal Pronouns Well
We've said that personal pronouns aren't something we can tell just by looking at someone. So how do you know what to say or use? This is a great question! And it leads us to a smart change in classic etiquette. There are a number of areas in our lives where we have a chance to self-identify well to help others best respect us. In email, in user names and profiles and during introductions - especially self introductions.
For a self-introduction Traditionally you'd say, "Hello, I'm Sam." today we suggest that during a self introduction you say, "Hi, I'm Sam, I use she/her pronouns." or the shorter version (often said when joining a new group and doing a round of self introductions) "Hi I'm Sam, she/her."
Now no one needs to wonder or guess at Sam's identity.
When introducing others We often know the pronouns used by the person we are introducing and we can lean on this to help the other person being introduced. "Eleanor, may I introduce Sam Lovejoy to you? Sam works with me at Emily Post, she is managing our web content. Sam, this is Eleanor Turlington, they are one of my nearest and dearest from my NYU days." By giving just a little bit more information about each person, pronouns can be interjected and noticed by those being introduced.
In email It is extremely useful to include your pronouns in your email signature. Even if you think your name makes it clear what your pronouns might be, it's polite to not make people guess at this. Including your pronouns also helps others to see the practice as standard (which it is on it's way to being) and normalizes the idea that you cannot decipher all of someone's identity from a name alone.
Example:
Lizzie Post (she/her/hers)
Co-president at The Emily Post Institute
or
Lizzie Post
Co-president at The Emily Post Institute
she/her

There is no one perfect style for where to place your pronouns. As long as it's clear that they connect to you, that's what matters.
Video/audio group calls For many conference call services your name is shown to identify you on the call. This is the perfect place to include your pronouns - especially when you're on a call meeting people for the first time, or with members outside your immediate circles (be they work or social). It is so incredibly helpful to see "Sasha Smith he/him".
It's also important to make sure that you use correct personal pronouns when talking ABOUT someone, even if they aren't present. To do otherwise is inconsiderate to the person you're talking about as well as not helpful to those with whom you are speaking.
The term "preferred pronouns" gets tossed around a lot, and while individuals may have more than one set of pronouns available to them, the idea that it's a "preference" which ones are used doesn't give due weight to the choice. A cys-gendered woman may have the options of she/her/hers and they/them/their available but whichever gets used they are all their (or her) pronouns.
Some people may share that they use a certain pronoun even if it doesn't traditionally go with their gender-identity. "I identify as a woman but I use he/him/his pronouns." If this is how they identify and what feels right to them representing themselves to the world, then it's not so much a preference as it is who they are. (And thank goodness this person who has long been misrepresented has options that can be better understood today.)

What If I Mess Up?
If you misspeak or assume and get someone's personal pronoun wrong, correct yourself immediately. "My apologies, I meant to say her classroom." or "sorry, her classroom"
If in conversation you get it wrong and someone corrects you, apologize, thank them, and say it correctly. "My apologies, thank you for correcting me. ...their classroom."
You want to be sure to move on and not dwell in the awkward moment. Don't be apologetic to the point that you seek comfort from the person you wronged. And avoid making them responsible for your error "oh had I known…" would not be the thing to say. It's your responsibility to find out when you meet someone if they haven't told you already. (See how to ask about personal pronouns above.) Show quick and genuine remorse, then move on well by getting it right going forward. That's the most considerate and respectful way to handle any missteps.
Modern Neopronouns
Neopronouns are generally used with the intent of being gender-neutral. They are used in the third person singular to refer to someone who is gender non-binary.
To understand the cases in which each pronoun will be used, refer to the chart below for examples using they:


| | |
| --- | --- |
| Use | Pronoun |
| Subject | They are cooking in the kitchen. |
| Object | I saw them today. |
| Possessive | Camilo released their album last week. |
| Reflexive | Ximena has to cook for themself. |
Xe [zee] Pronoun
The Xe Pronoun is a gender neutral pronoun that was referred to in the Unitarian Universalist publication UU World in May of 1973. It is meant to coincide with the pronouns he/she.

| | |
| --- | --- |
| Use | Pronoun |
| Subject | Xe |
| Object | Xem |
| Possessive | Xyr / Xyrs |
| Reflexive | Xemself |
Ze [zee] Pronoun
The Ze pronoun is a variation on Xe. It became relevant in the early 1990's, with Richard Creel being the first known user of Ze.

| | |
| --- | --- |
| Use | Pronoun |
| Subject | Ze |
| Object | Zir |
| Possessive | Zir / Zirs |
| Reflexive | Zirself |
Less Common Neopronouns Used in the Past
Per
This gender neutral pronoun is known as a "person pronoun". It was first used in the 1972 issue of Newsletter of the American Anthropological Association by John Clark.

| | |
| --- | --- |
| Use | Pronoun |
| Subject | Per / person |
| Object | Per |
| Possessive | Per / Pers |
| Reflexive | Perself |
Ey
Ey is known as an "Elverson pronoun". It was created in a contest in the 1970's. The contest was to come up with a singular alternative to "they".

| | |
| --- | --- |
| Use | Pronoun |
| Subject | Ey |
| Object | Em |
| Possessive | Eir / Eirs |
| Reflexive | Emself |
Co
This pronoun was created in 1970 by Mary Orovan. It is notably used in the Egalitarian village of Twin Oaks in VA. It comes from Proto-Indo-European roots, closely related to "this".

| | |
| --- | --- |
| Use | Pronoun |
| Subject | Co |
| Object | Co |
| Possessive | Cos / Co's |
| Reflexive | Coself |
Ve
The exact source of this pronoun is unknown. However, it was created sometime in the early 1970's and used in multiple novels in the 1980's and 1990's.

| | |
| --- | --- |
| Use | Pronoun |
| Subject | Ve / Vi |
| Object | Ver / Vir |
| Possessive | Vis / Vers / Virs |
| Reflexive | Verself / Virself |
E
E is known as a "Spivak pronoun" as they were created by Michael Spivak in 1991. They were very prevalent in the early days of the internet in chat rooms, and their use is still relevant today.

| | |
| --- | --- |
| Use | Pronoun |
| Subject | E |
| Object | Em |
| Possessive | Eir / Eirs |
| Reflexive | Emself |
Categories
Recommended Articles