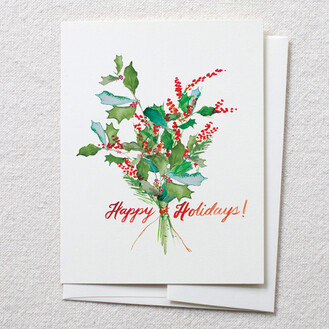 Holiday greeting cards are a tradition all over the world, and offer a wonderful way to reach out to those you care for (be it social or business) to spread a little cheer and good wishes. Even with the tradition being common. We end up with a lot of questions to the Institute about how to handle holiday cards.

Visit our shop for our holiday and year round greeting cards and more!
A Little History
Holiday cards are hardly a recent phenomenon. In 1822 the U.S. Superintendent of Mails complained that he had to hire sixteen additional carriers to handle the December deliveries and petitioned Congress to limit the practice. (Fat chance!) Britain holds the honors for the first commercially printed card, commissioned in 1843 from artist John Calcott Horsley by Sir Henry Cole, who was looking for a tasteful card to send to friends. Wishing "A Merry Christmas and Happy New Year to You," a thousand cards were printed. The idea caught on and by the 1860s printed cards were big business, featuring both seasonal and religious themes.
No matter what you celebrate, the holidays are a time when many people make an effort to stay in touch. Season's greetings, family newsletters, cards and notes of thanks and appreciation flood mailboxes and email boxes around the globe.
The Basics
You can send cards or not. Just because you sent last year doesn't mean you have to send cards this year. Cards don't have to be reciprocal, however, if someone sends you a card and they hadn't been on your "send list" and you have some extras, by all means send one out. Or you may choose to add this contact to your list for next year. You may receive more than you sent, or send more than you receive and both scenarios are okay - you aren't doing anything wrong.
You do not need to include photos but you might choose to. Where you choose candids or a staged photo are up to you and your personal tastes and how you like to present yourself (or a couple or your family).
Adding a handwritten message and signing is perfectly okay. You might choose to personalize it base on each person you're sending to. Or you may just do a heart, xx's and o's (kisses and hugs) and your name(s). It's also okay to send printed cards exactly as they are, without a personal touch - this is true with something you might get off a print on demand website or from a printer or stationer. For cards where you haven't customized the greeting you might want to at least sign them. It adds a nice personal touch since the greeting card itself has no personal message as opposed to the print on demand cards which are often personalized with wishes from you (or you and your significant other, or you and your family).
You can include a personal newsletter in holiday card. Many are annual favorites. A good personal newsletter gives updates from the year but avoids bragging (Kelsey just got a job with a huge salary and bought herself a BMW - is not the right way to go. Instead try: Kelsey is loving her new job and we are thrilled for her! Tempting though it may be, do try to avoid political commentary in your newsletter - remember the focus of the card is to send good wishes during a festive time.
You may sign the card in whatever way you feel inspired. Hugs and kisses, hearts, love, sincerely, best wishes, cheers to all, all my best to you and yours. If there are multiple people in your home that you're sending the card from it does NOT matter what order you put the names in. Couples do not have to abide by either ladies first or gentleman first. Though most people will put the adults first and the kids afterwards, even this is not a hard and fast rule at all. And yes, Rover and Fluffy can be added as well.
Cards are usually sent anytime from Thanksgiving until a couple weeks into the New Year. (Really??!! Yes.) A greeting for the New Year avoids all of the holiday season's religious associations which can be a nice option for some. It can also help spread out a very busy season. Remember, if you miss the season this year, there's always next! While electronic cards are fun - sometimes gorgeous! - and easy on the environment, paper cards sent through the mail are more traditional and typically favored this time of year. (Especially during social distancing when that personal touch is so nice - and so many are trying to stay off their screens.)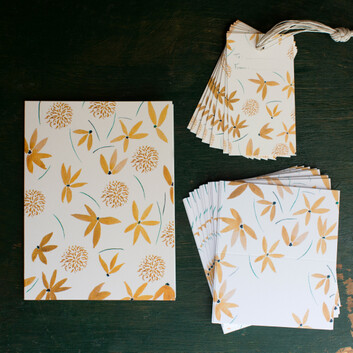 Common Questions
I have many friends who celebrate different holidays in December; is it rude to send holiday cards to friends who don't celebrate?
This is a toss up and we suggest being thoughtful. If you have friends who are very "anti your holiday" - like someone who cannot stand Christmas, you should respect their perspective by sending them New Year wishes or Seasons Greetings and choose a non-denominational card. For friends who celebrate other holidays from your own, you might consider sending a card for their particular holiday, instead of yours. Most people feel included receiving a greeting for a holiday they don't celebrate, (How nice!) You can always handwrite on your card a specific greeting for your friend's holiday celebration. This might help ease potential oddness about receiving a card for a holiday your friend doesn't celebrate.

If you're unsure and don't know the person well enough - may it's a business contact - go with something that has a broader sentiment: "Seasons Greetings" or "Happy New Year"—with no religious figures, messages or symbols on the card. Sending seasonal greetings goes beyond any particular religious holiday, and it's long been an accepted practice to wish one's friends well at least once a year. Sending a card early in the new year can also de-emphasize the religious aspect of the season.
Is it okay to email my holiday greetings instead of mailing cards?
Sure. The electronic version of the traditional card is definitely greener. The sky's the limit—everything from a note with an attached photo to an animated extravaganza.
Keep a few points in mind:
Send eCards to those friends and relatives who actually use e-mail. Your great aunt Sara may still prefer a traditional card.
Write your message as you would a traditional card.
Limit the size of attachments to 1MB or smaller.
Don't show other recipients' addresses in the "To" line. Keep their info private by using the "Bcc" feature.
Use a personal rather than a work address. Many companies have policies against receiving and sending personal e-mail at work.
Visit our shop for our collection of Holiday and Year-Round Greeting Cards
Categories
Recommended Articles
Related Episode
Check out a related podcast episode that discusses sending holiday cards during difficult times.