How to Host A Graduation Party
Graduation Parties
Graduations are big achievements in life and it is so much fun to celebrate our graduates! When it comes to graduation parties it's important to remember a few key tips to help make the party the best celebration possible. These parties are often casual sometimes even pot-luck events, however, there's no reason not to do a more formal celebration if that's what the host and honoree wish.
Hosting & Invitations
Typically a parent, guardian, or another special person in the graduate's life is going to host the party. (A graduate could certainly throw their own party if they wish, but remember if doing so, it's important to engage the role of host and not just honoree, a self-hosted party is also self-funded.)
If hosting, talk with the honoree so that you can both be on the same page about the type of party you're going to throw. You'll coordinate the guest list (usually those closest to the graduate) and likely the food for the event, planning something the honoree is fond of is always a good idea when celebrating them.
Typically this party is held in the afternoon or early evening. It can be planned for directly after the graduation or held a few days (even weeks) afterward. Typically you do not host this party prior to graduation. This party can be structured as a typical party (about 2-4 hours) with a start time or as an open house where guests can come and go as they please. Both are great options, choose what makes the most sense for your honoree, guests, and your personal hosting style.
Invitations should be sent out two to six weeks ahead of time. It should be noted that this invitation comes with NO obligation to the guest of bringing or giving a gift to the honoree. No registries are made, nor are wish lists given. The host can ask the honoree if they have any gift suggestions, maybe even in a few different price ranges, should any guests inquire.
SAMPLE INVITATION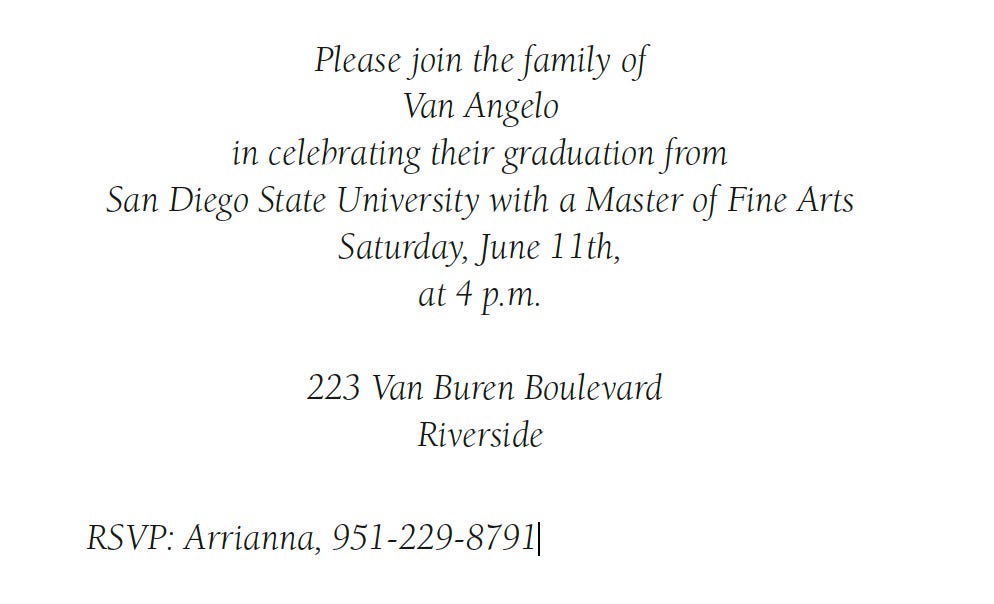 What to Serve
Talk with the honoree about what refreshments they would like to have at the party. You'll want to make sure you are providing food and beverages for guests (even if this is done through a pot-luck.) For smaller parties, it's easy to check in with guests about allergies and food restrictions. For larger parties aim for having enough variety so that all guests are covered.
Handling Gifts
Since gifts are optional for guests to bring to graduation parties, we don't recommend opening gifts in front of everyone at the party. If it is a small group and everyone has brought a gift, then gift opening could work but if this is not the case, it's best to leave the gift opening until after the party so that guests who didn't bring something don't second guess their decision.
Multiple Honorees
If you're hosting multiple honorees it's essential to give each honoree equal weight and balance in how they are celebrated at the party (this includes making sure they have the opportunity to suggest food and drink they'd appreciate and guests they'd like invited). It's also important that any banners, or cakes that celebrate the graduates either do so generically or list each of the honorees if names are being used.
Thank-You Notes
Since it's less likely that a graduate will open any gifts at a graduation party, it's important that honorees write thank-you notes for any gifts they do receive. A simple thank-you note is all that's needed but it should not be missed. The honoree should also be sure to send a thank-you note (and possibly even a thank-you gift if they wish) to the host of the party. It's a wonderful thing to be celebrated, and often a lot of time, thought, and effort has been put in. Recognizing that with a thank-you note is always a smart idea. Try to send your thank-you notes as soon as possible, but remember it's never too late to do so.
A huge congratulations to all the graduates this year for their hard work and achievements. This truly is a milestone moment! We hope you shine brightly as you celebrate and wherever your next steps take you may they be helping you to make your dreams come true.
A signed copy of Emily Post's Etiquette - The Centennial Edition makes for an excellent graduation gift. Use the link to be taken to the purchase page.
Our ever-so-useful Thank-You Note Smartlist also makes for a great graduation gift as it can be used and reused time and again.