How to Write a Thank-You Note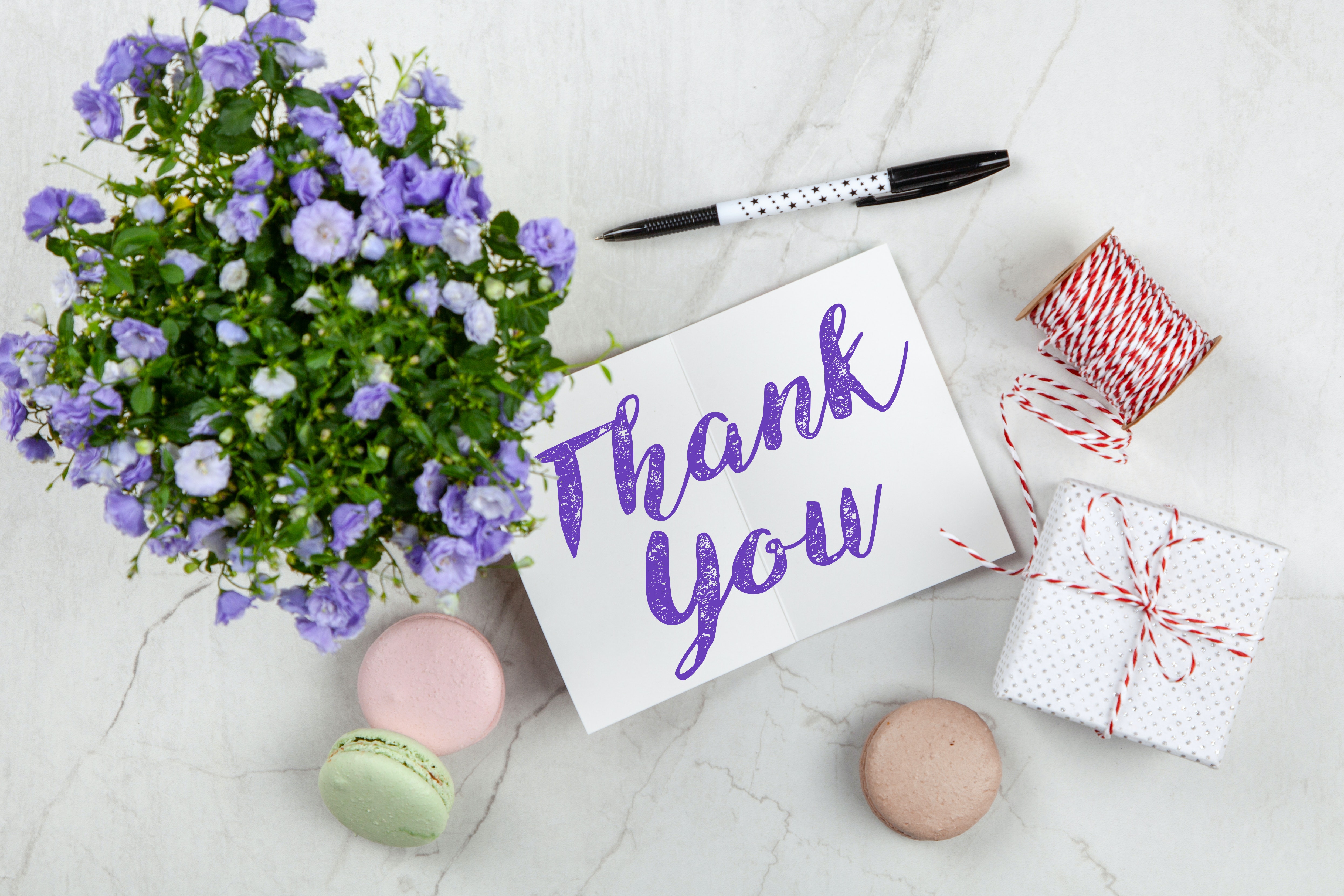 How to Say Thank You Meaningfully

Email thanks for email favors, text thanks for text favors. Use handwritten thank you notes for special opportunities, gifts not thanked for in person, a meal at someone's home, first visits or longer visits when you have been hosted. The reasons to write a note of appreciation are endless!
For etiquette aficionados - Anytime you want to raise someone up or really honor a relationship. Try sending a thank you note to someone who consistently does small things well as a way to show them it is noticed. Consider sending a note to someone for offering to help even if it wasn't needed or accepted at that time.
Get Prepared

Keep stationery, a pen you like to write with and postage in your favorite writing spot. Inspiration must find you ready.
Stationery

There are few rules here. Mostly it is a question of preference and style. Correspondence cards are commonly used for quick notes like a note of thanks. Try engraving and weighty paper to give the note more heft. Fold over cards can also be nice and provide a chance for personalizing and creative expression. Avoid black borders, as they were traditional for mourning cards.
Thank-You Note Tips
Speak from the heart - This is a brief note, about four sentences, meant to express something you are grateful for. Be sure to say what you mean directly.
Use a salutation.

Formal/Professional – Dear Title Last,
Professional – Dear First Last,
Close Professional/Social – Dear First,
Social – Dearest First, First,
Good friend – First, Nickname, Initials,

First sentence – Thank them explicitly.
Second Sentence – Personalize the note with an original thought about the things you are thanking for, the effort or thought behind it, what it means to you and the relationship.
Third sentence (optional) – Pull the focus back and think about the future. Suggest future actions or direction or develop the thought from sentence two.
Fourth sentence – repeat the thanks or offer a concluding thought.
End your thank you letter properly.

Formal/Professional/Social – Sincerely
Professional/Social – Best regards, Regards, All the best, Best, Respectfully yours, Cordially
Social/Personal – Yours truly, Warmly, Affectionately yours, With great affection, With love, etc.

Other words to express thanks besides 'Thank you'; Grateful, Appreciate, Value, Acknowledge.
Thank You Note Timing
Try to get it in the mail within a day or two. It will be easier to write, fresh on your mind. 'Snail mail' is not that slow; it should arrive in a couple of days. When is too late? The best is the enemy of the good and it is never too late.
The Biggest Hurdle

Until it is a developed practice in the mind and the body and the day, taking a moment to write a thank-you note can feel awkward. What do I say? It's too late? They might find it strange? I'm not great at this? Who has the time? Whatever form that little seed of doubt takes, remember that showing gratitude is one of the simplest things you can do to grow relationships. The rewards are waiting.
Sample Thank You Notes
Professional:
Dear Carla Ramirez,
Thank you for taking the time to meet with me on Monday. I appreciated the opportunity to learn more about your team and look forward to working together over the coming year. Please feel free to reach out to me if I can help with anything during the transition. Thanks you again and I can't wait to get started.
Sincerely,
Daniel Senning
Social:
Dear Arya,
Thank you so much for sending the new baby blanket you made for Anisha. It is simply the softest thing that has ever touched our little one, I don't know how you make such wonderful things. You are beyond thoughtful. I do hope that you will make time for a visit as soon as it is possible, we can't wait to see you in person. Thank you again for everything, we can feel the love from here.
Yours truly,
Millan
Categories
Recommended Articles