Pandemic Wedding Etiquette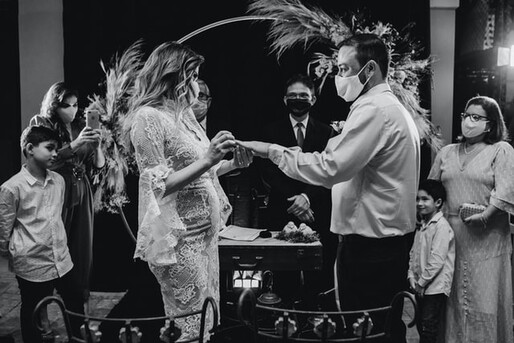 Please note, links in this article may be affiliate links and if used Emily Post will receive an affiliate commission from them. This is a great way to help support our business and we thank you for any engagement with our affiliate links.

For couples across the country (and the globe for that matter) who were planning their big days, the COVID-19 pandemic has raised much anxiety and many questions. Should you cancel or postpone? Will vendors refund any deposits? Are guests going to ask for gifts to be returned? How far out do we need to worry? Will hotels allow us to move our blocked room dates?
No one has experienced uncertainty on this scale in the wedding industry (or likely any industry) in recent history. While that can sound scary, and it can seem like there are a million questions to answer, an Emily Post colleague once used a saying that can be helpful: You move mountains one pebble at a time. Let's move some pebbles.
Let us start by recognizing that we are all in this together. You are not alone. And we are so sorry that this pandemic is affecting you and your loved ones during what should be a time of great joy and celebration. We understand and sympathize with those for whom this is going to cause financial hardship and strained relationships.
Everyone from vendors to wedding professionals, couples, and attendants is trying to figure out what's going to be best for all involved.
Let's look at a few key areas that most people are concerned about.
Consider Your Options
Postpone, Cancel, or Take the Leap?
Many couples whose wedding dates are directly affected by the current quarantine and shelter in place mandates have postponed or "canceled until further notice" their weddings, receptions and related parties.There's also the option of taking the leap and getting married as a few couples have done. You may need to have a number of conversations and even gather quite a bit of information from vendors and sometimes guests before you can make the call for how you will proceed with getting married. One of the best questions you can ask yourself comes from Anna Post's advice "Do what will make you feel married." If that big party is it, then work on postponing or cancelling. If doing it now makes sense, finding out if you can get your marriage license made official and whether or not to Zoom in loved ones will be your path. It's a great guide when having to make tough decisions: What will make you feel married?
Postpone
Postponing, while disappointing, does help the vendors you chose to budget and try to get a handle on what income they can count on once the threat of COVID-19 has reduced enough for gatherings to resume. Postponing is also a form of looking toward the future, and this can have a positive effect especially for happy events like celebrations. Even if you estimate incorrectly and have to postpone again, at this particular time there is a lot to be said for looking forward to such a joyous event.
As soon as you commit to postponing you can post to your wedding website and email and call guests to let them know your new plans or to let them know the wedding is postponed until further notice.
For announcing your postponement consider calling guests or using a service like Greenvelope to send a postponement card. See below for sample wording.


Cancel
For most couples this means canceling this version of their wedding. Maybe it was a destination trip, maybe the date and location needed to be tied together seasonally and the venue has no openings in the next few years. Whatever the reason, couples who need to cancel their wedding until further notice, should spread the word immediately. Postponement for many will mean re-booking tickets and reservations for different dates. Canceling means cancelling this version of the wedding. If you think you're going to for sure invite all the same guests to the same place at a later but undetermined date, we think of that as postponed until further notice.
Cancelling this version of the wedding means that you're likely to change the guest list, location and of course the date of this wedding. Cancelling would suggest that you should offer to send back all gifts to the giver. Some guests will accept a returned gift, others will insist you keep it.
For announcing your cancellation consider getting in touch with guests directly by calling or using a service like Greenvelope to send a cancellation card. See below for sample wording.


Take the Leap
For some the current crisis will inspire acts of (well thought out) spontaneity. For others it might be freedom from a big party that was looming large. Insurance reasons have also practically been noted by many. If you decide to skip the gatherings and get married on your day (or heck maybe earlier!) and either celebrate by sharing photos you take or doing a giant Zoom video reception, we highly recommend letting folks know first that you're canceling your big day and then follow up announcing that you got hitched or are planning on getting hitched minus the big party for safety's sake.
Guests are likely wondering what your plans are and while many of them will be thrilled to see your happy news and you are surely to get many many many congratulations, etiquette asks that you remember your duties as a host. As the host of this awesome event, it's considerate to think of how your guests will be affected by the switcheroo in plans and to get them answers quickly to ease wonder and worry, so they can make or change plans more easily. See below for sample wording.

Getting the Word Out
One of the things most couples are dreading is getting the word out to their guests that plans are cancelled or postponed. While most guests will be more sad for the couple than upset for themselves, many are under financial strains that could make any losses they take from the postponement or cancelation a harder hit to take. Here are some tips to help make the conversations easier.
Get the word out right away. This gives your guests the best chance dealing with any travel plans and having one less thing to think about. Given the fact that none of us has ever dealt with this situation before it's hard to tell how your nearest and dearest will react especially when anxiety is high right now for most people. Map out the basics of what you'll say and then be prepared to listen and sympathize. "I understand, how this would affect our guests was one of our biggest worries in having to do this." "We are really grateful for your support and we will be in touch as soon as we know more." "We're really hoping you'll be able to come once we've figured out the new plan."
Share all the details you can and share them in any way that you can. Start by posting on your wedding website. This also provides you with an easy link to share via email and text or DM with your guests. We recommend speaking personally with anyone in the bridal party or immediate/close family and friends so that you can talk them through your decision and process together. Update your guests whenever possible. This might be a bit hard right now but for those handling this issue in April or May we might have a better picture of how long this crisis will last.
Magic words are magic. Take a deep breath and remember that HOW you communicate matters just as much as what you are communicating. Calm, positive, understanding and sympathetic tones are a good goal right now. Remembering basics like the magic words: "Please," "thank you," "you're welcome," "excuse me," and "I'm sorry" are going to go a long way to helping communications with your significant other, guests and vendors.
Sample Language
Postponing
"We hope this message finds you well and staying healthy right now. Due to the severity of the COVID-19 pandemic, we will not be holding our wedding on April 19th, this year. We instead planto postpone the wedding until April 18th, 2021. We have arranged for the same hotel blocks, venue etc… and should this date work for you, there will be no reason to cancel or change hotel plans. We want to thank you for supporting us, we are really looking forward to celebrating with you when social distancing is lifted."
Or
"We hope this message finds you well and staying healthy right now. Due to the severity of the COVID-19 pandemic we will not be holding our wedding on April 19th, of this year. Instead we are postponing until further notice. As soon as we have more information on hotel room blocks, we will reach out. We are so grateful for your support, and we look forward to celebrating with you when social distancing is lifted."
Canceling
"We hope this message finds you well and staying healthy. We regret that due to the severity of the COVID-19 pandemic, we will be cancelling our wedding planned for April 28th, 2020. We are not canceling our marriage, and we are looking forward to a wedding in the future. At this time we are uncertain of what our wedding plans will look like and out of consideration for our guests, we thought it best to cancel this version of our wedding. Thank you for your support. We love you all and are happy to help with any questions or concerns regarding bookings already made."
Taking the Leap!
We hope this message finds you well and staying healthy. After much thought regarding our wedding plans and the COVID-19 pandemic, we have decided to go forward with our wedding on April 10th, 2020. In order to comply with safety measures (and encourage them!), it will be just the two of us with an officiant 6 ft away,. We will be hosting the event in an online video chat and would love for you to join us if you can! We plan to hold a party later on once travel and gatherings are safe. We apologize for any inconvenience this may cause, and we are happy to help in the ways that we can with travel bookings. We thank you for your love and support, and we hope that we can join us for a joyous event from a distance!"

Gifts
If you are postponing your wedding you do not need to send gifts back, even if the postponement is quite far out.
If you've cancelled and you're likely to have the same guest list you just don't know when, or where you'll be inviting them, then you make the offer to return the gift. In essence you do a sort of gifting dance. The couple calls the guest and says something along the lines of "Auntie June, Kim and I were so thrilled to receive the gorgeous vase you sent for our wedding! Since we are cancelling the wedding and aren't sure of the details moving forward we wanted to offer to send the vase back to you if that would be best." This gives Auntie June a choice to say, "That would be wonderful, you can just send it right back to the store/me. And I look forward to hearing what you two plan to do once you've decided on a new plan." Or "Oh don't you worry about it at all sweethearts, you just enjoy that vase as an early gift. Be sure to tell us of your plans once you have some."
Vendors
Before you call, check your contracts with vendors to find out what terms you've agreed to. Then, ask your vendors what their preferred course of action is. Try not to put your vendors in the position of asking them to decide whether to cancel or postpone your wedding. Remember your goal is to find out what is possible (or not possible) from them based on their business sense and then to make decisions that work for you from that information.
Staying Positive
We wish we could give all of you out there managing wedding plans amid the outbreak of COVID-19 a giant hug (asking your permission first of course, smiles and good vibes to those who decline). We wish we could host true virtual versions of your weddings (complete with perfect weather. We wish we could ease every guest and couple who is worried about time and money potentially lost. In the absence of having those magical powers, we want to offer you hope. We don't exactly know what it will look like, but you and your partner have a beautiful future together because you're making the choice to spend your lives together supporting and loving one another. And you and your marriage, your wedding, can be the bright light that family and friends are looking forward to celebrating.
Categories
Recommended Articles