Saying "No" to Mom's Wedding Dress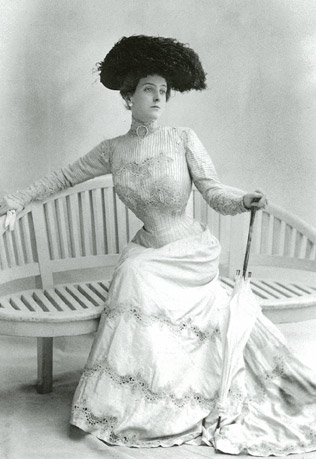 This article contains links to one of our fabulous affiliates which means that Emily Post may receive a commission from any purchases using these links. This is a fabulous way to help support our business and should you choose to use it we want to thank you for your support.

Wearing an heirloom gown is a wonderful tradition, when it's practical (and when it's what the bride wants). However many who are on their way to the alter may want to choose their own gown because after all, this is their wedding and they see themselves differently from what the dress being offer represents to them.

Take Some Time
When your mother first offers her dress, take one of Anna Post's best pieces of wedding advice and appreciate the idea, then buy yourself some time: "Mom that is such a generous offer, I'm not sure I want to say yes yet, I'd like to think about it for a bit." If you know it's a no, it's okay to say so, but honoring her offer for a moment and showing her that you are going to take the time to think it through is thoughtful (even if you've already had a dismissed the thought on your own remember, she hasn't seen that or experienced that with you yet).

Tips for Saying "No, thank you."
When you talk with your mother, be sure she knows that you respect and appreciate her offer. This might mean telling her how beautiful she was as a bride, or how much you know the offer means to her. "Mom, you looked so beautiful on your wedding day, I want you to know how much I appreciate you offering your wedding dress to me, thank you." Then let her down easy. "I'm going to decline only because I would like to have my style reflect me, and while I love your dress for you and for the nostalgia it brings, I have decided to wear a style that aligns more closely with my vision of myself on my wedding day." You've honored the offer, and explained clearly (with an actual decision made) that you are going to go in a different direction.

Compromising is a Possibility
Many people choose to incorporate something from their mother's dress (if cutting into is an option Mom is okay with) into their own. Whether that's using lace trim, a strip of satin, a sash or belt, or truly anything you can think of that will be welcome into your own dress. The sky is the limit, just be sure to check with your dressmaker so that you know it's possible.

Moving Forward Well

Inviting your mother to join your in the choosing of your dress or in dress fittings is a great way to include her in the wedding dress process even if you aren't wearing her dress. Seeing you in a beautiful gown is likely to cure her disappointment.

If not moving her forward, it's okay to talk about that. "Mom I'm hoping to see you give some of these dresses a chance, are you upset that I'm not wearing yours?" Asking her directly will bring the feelings out and give her a chance to address her behavior and her emotions which she might need to do to realize they are having a negative impact on you. Maybe she needs to air them to move forward. Saying something like, "You only want me to wear yours, that's why you're saying these don't work." Even if it's true, it is accusatory and not likely to get to the root of the issue for you two to move forward, but instead put her in a defensive position. If mom is really having trouble being her best self, you might choose to focus on other aspects of wedding planning to include her in.
Remember too there are other elements of your mom's wedding that you might try to incorporate into your own wedding style that may just make her day! Jewelry, hair clips or pins, flowers, lace, shoes, and even little tiny touchstones or keepsakes (like the tradition of putting a penny in the bride's shoe) can be little ways for mom to feel like she's right there with you - yes even if she is actually right there with you.
A Dress Beyond Just a Day
We are very excited to have UNBOX THE DRESS as one of our affiliates. They will take your wedding dress clean it, repair it and create something fabulous out of it that allows you to wear it for a lifetime to come! This is a major value to consider. Often couples talk about how disappointing it is to spend so much money and time (all those fittings!) on a dress worn only for 12 hours at the most. Unbox the Dress allows for you to get everlasting value from your dream dress and to relive the memories over and over again. There is no point in keeping such a gorgeous item tucked into a box and left to collect dust in an attic, closet or basement.