Sunday Dinner: An Old Tradition in a New Light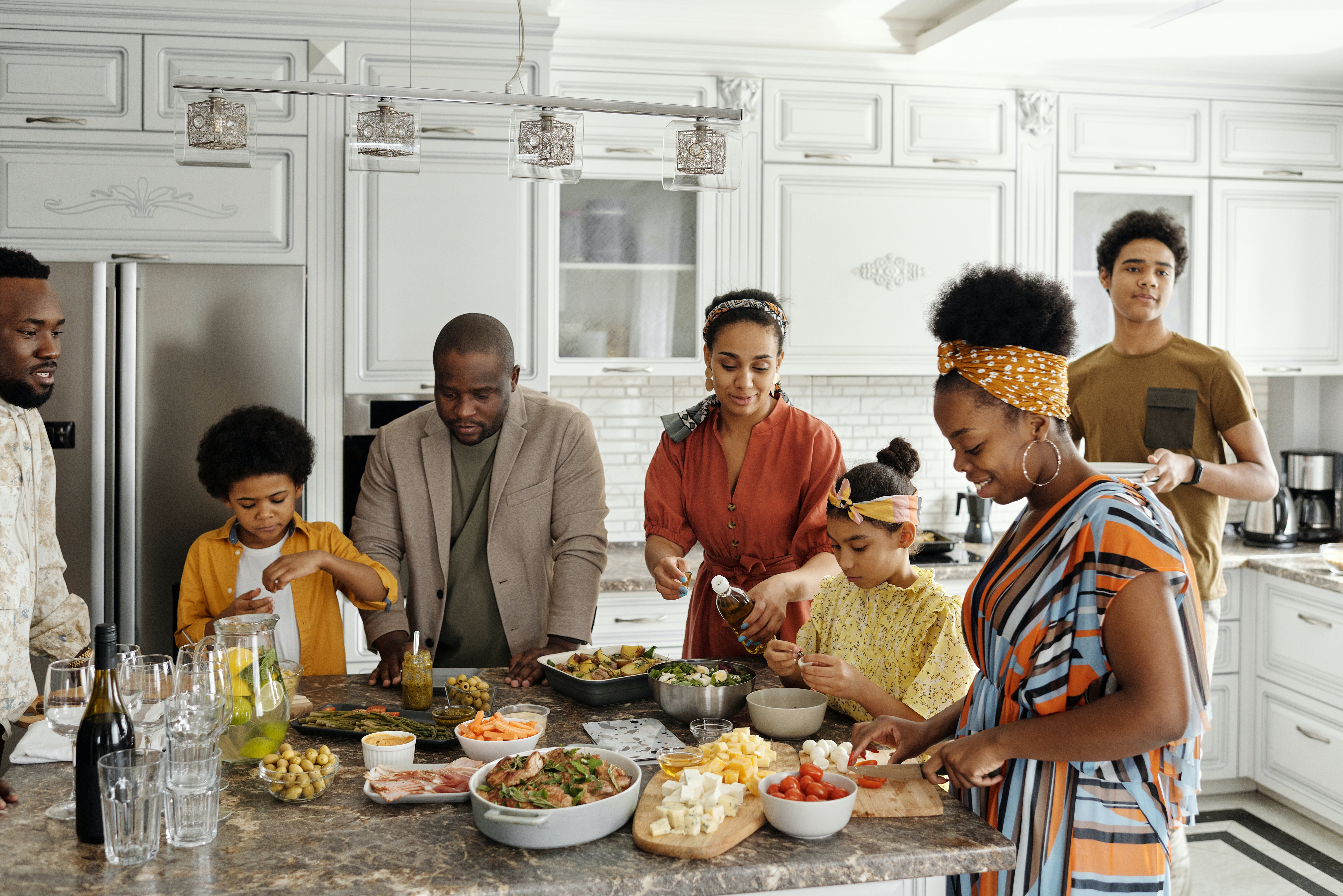 Our parents like to regale us with stories of the Sunday family dinner "back in the day." Our mom, wearing her Sunday best, went to her grandparents' after church for a sit-down meal with a roast-something that her grandfather carved perfectly at the table. At our dad's, the 2:00 p.m. Sunday family dinner was followed by a second ritual, as the family piled into the station wagon and drove to the city for a New York Rangers hockey game. The Sunday dinner table was where you really learned about your family—their history, hopes and worries, stories, jokes, and personalities. The meal was pretty special, too—something that had been cooking all morning while the family was at church, food that was delicious, comforting, and made with love.
Sunday dinner is making a comeback. When you think about it, it's an ideal way to entertain: long, lazy afternoons with friends and relatives gathered together around the table. Think uncomplicated comfort food like roasts, braises, and casseroles. The event doesn't have the formality of a Saturday night dinner party—it's more of a community effort and a chance to decompress. Since Sunday night is a "school night," an afternoon or early evening meal covers both lunch and dinner and lets everyone get home in time to prepare for the upcoming week. And like the Sunday dinner of old, it's an opportunity to bring multiple generations of friends and family together around the table.

Lizzie Post's Top Tips for a Successful Sunday Dinner
Keep the atmosphere casual, warm, and relaxing: You want the focus to be more on spending time with your guests than on an elaborate menu.
Invite as many people as you can comfortably fit around your table.
Be open to guests who ask if they can bring someone.
Invite guests to arrive between one and four in the afternoon.
Keep the menu simple and seasonal, but have plenty of everything.
Say yes to help—with the prep, the food, the cleanup, the works.
Serve the food family style, buffet style, or a combination of both: You could sit everyone down to a plated first course, then serve family-style platters. or enlist helpers to plate each course. It's all about lingering.
Have an activity available before or after the meal: Play board games, do Sunday crossword puzzles, take a walk, play croquet or bocce, watch a movie or a ball game, or just plain chat.
Consider hosting Sunday dinners on a regular basis. You'll be surprised at how easily the idea catches on.
Get Started with Our Favorite Recipes!
Want to get cooking but don't know where to start? Don't worry, there are plenty of recipes to go around! For a warm, hearty meal, try Lizzie's creamy chicken with biscuits. If you're craving the flavors of the fall harvest, let our roasted butternut squash and apple soup with sage fill your home with the sweet smells of seasonal goods. Pair it with Lizzie's ham and cheese crostini to make a complete meal.
Sunday Dinners on The Splendid Table
We're not the only ones talking about Sunday dinner: Lynn Rossetto Kasper and Mario Batali discuss family meals on American Public Media's The Splendid Table. Listen here.
By Anna Post and Lizzie Post, from their book, Emily Post's Great Get-Togethers.
Categories
Recommended Articles