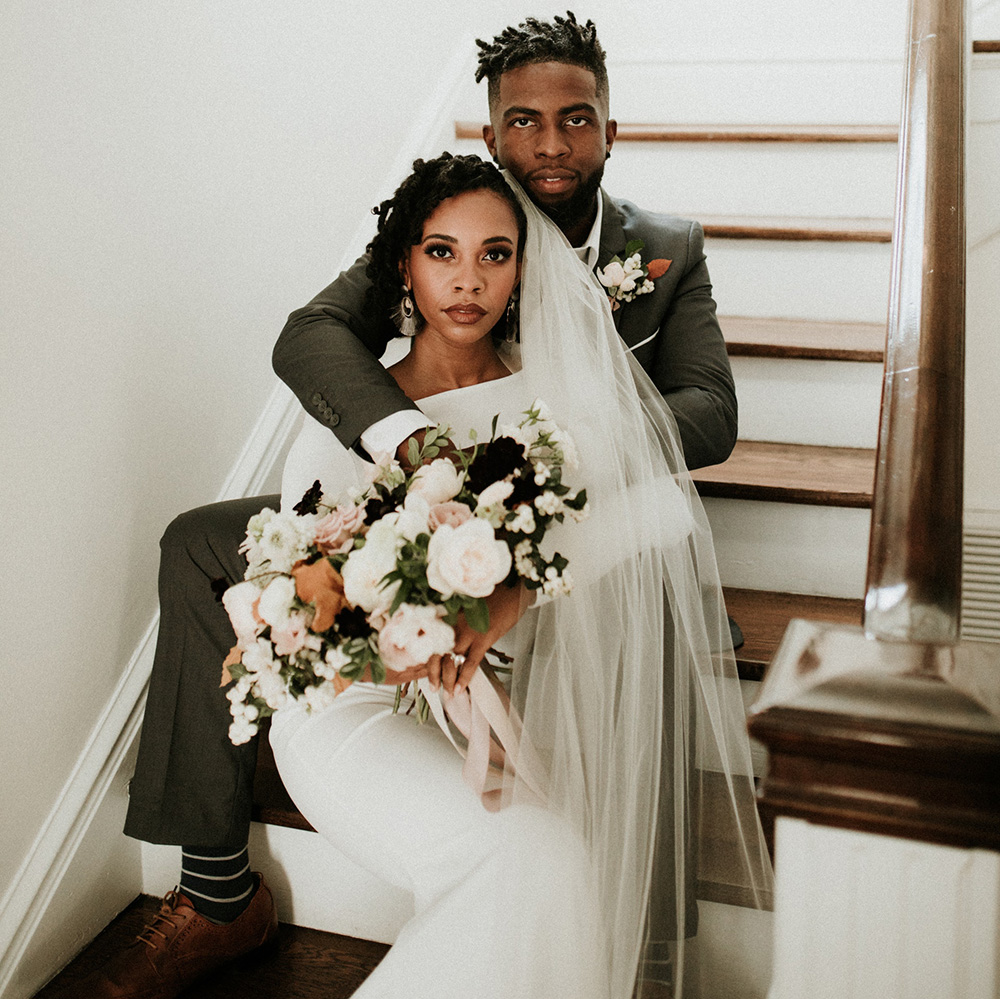 The Invitation Sets the Tone
One of the most searched topics on emilypost.com over the last 25 years has been 'wedding invitations'. It is so important to get it right, for two reasons:
Printing is costly and details are easy to get wrong.
When all the elements are in place, aesthetics are also an important part of setting the tone of the wedding.
Inner envelopes, tissue, engraving, wording, listing hosts, including parents, rsvp cards, inserts, related events - we've got you covered.
Informal Wedding Invitation Wording
Unlike formally worded invitations, which use only "the honour of your presence" or "the pleasure of your company" to invite guests, less formal couples can keep their wedding invitation wording casual. Dates are more casually worded, titles omitted, and reception invitations may be issued more simply. However, the basic information common to all invitations still applies: who is hosting, the nature of the event, where and when it will take place, and how the guest should respond, if necessary. Learn more.

Formal Wedding Invitation Wording
In accordance with long-standing traditions, the following etiquette guidelines apply to the wording of formal wedding invitations:
Names and Spelling
A wedding invitation is issued by the host(s). The hosts' name(s) are spelled out and include middle names and titles.
Titles such as Mr. and Mrs. are not spelled out. Doctor should be spelled out, unless the name would be too long to fit on one line.
The phrase "the honour of your presence" is used when the ceremony will take place in a house of worship. Honour is spelled with a "u" in the British fashion. For other venues "the pleasure of your company" is the traditional wording.
If the bride shares her parents' last name, only her first and middle name are used.
The groom's name is spelled out, and is preceded by a title. For example: Mr. Stephen Eugene Hall.
Time and Date
The date is also spelled out, as is the year. Note that there is no "and": two thousand twenty-three.
The day of the week and the month are capitalized; the year is not.
Use the phrase "half after" when indicating time, rather than "half past" or "four-thirty."
The phrases "in the afternoon" and "in the evening" are not necessary.
Provide the city and state of the wedding location. The state is spelled in full, but may be omitted if all guests are local.
RSVP
"RSVP," which is an abbreviation of the French "Respondez, s'il vous plait," means "please respond." Each of the following usages is correct: RSVP, R.S.V.P., r.s.v.p., R.s.v.p. and "The favour of a reply is requested."
RSVP is only used on reception invitations or combination wedding/reception invitations; it's not used on wedding-only invitations. When used, it goes on the lower left.
RSVP on its own indicates that replies should be sent to the return address on the outer envelope of the invitation. If you want replies sent to a different postal address, or to include an email address or phone number as alternative methods for sending replies, add this information below the RSVP:

Samples of Formal Wedding Invitation Wording
The wording of formal wedding invitations may vary depending on who is hosting the wedding. Here are samples of formal wedding invitations based on a variety of hosting scenarios to help you properly word your own invitation.

Choosing Your Wedding Invitation Style
The wording and design, from typeface to the color, weight, and even texture of the paper, all subtly shape how your wedding will be perceived. If you're planning a casual beach wedding, for example, then that should be conveyed from the start in the design of the invitation. On the other hand, if you picture your wedding guests in tuxedos and floor-length gowns, then the invitation should be equally formal in tone and style. Here are more style options to consider when creating your wedding invitations.

Addressing & Sending Wedding Invitations
Opening a wedding invitation is unlike opening any other piece of mail. Much care goes into addressing both the inner and outer envelopes. Several enclosures usually accompany the invitation itself, and there is a thoughtful order to how they are placed inside the outer envelope, and even a few things to think about when you stamp and mail them. Learn more.
Wedding Invitation Dos and Donts
While it is important unique and true to yourself when sending out your wedding invitations, here are some general guidelines you should follow when sending out wedding invitations:
Do:
Do allow plenty of time. Plan enough time in your schedule to carefully address, assemble, and mail your invitations.
Do get organized. Develop a system for addressing and mailing your invitations. Prepare by gathering the names and addresses of everyone on your guest list. Arrange each piece that goes into an invitation in a stack, in the order it will be picked up, assembled, and inserted into the envelope.
Do ask for help. Invite friends, family or bridal attendants to help assemble invitations.
Do use the names of all "and guests" when possible. It is much warmer and more welcoming to use the correct names of those who will accompany your guests on invitations instead of "and guest."
Do use correct titles. It's flattering when invitations are addressed correctly. This means using appropriate titles and spelling names correctly. When in doubt, ask before addressing.
Don't:
Don't forget to include any appropriate inserts, such as maps, directions or hotel information for out-of-town guests.
Don't include registry or gift information with your invitation. It is in poor taste to insert a list of places where the bride and groom are registered or a checklist of the things they want and don't want.
Don't use a standby guest list. When possible, invite your entire guest list at the same time rather than waiting to see how many people accept before sending out a second round of invitations. When the guest list is carefully planned, and when you consider the likelihood that 10-20 percent of invited guests typically send regrets, this approach is much more straightforward than using a standby list.
Don't use address labels for wedding invitations. Always address wedding invitation envelopes by hand, even when inviting hundreds of guests.
Inviting an Ex to the Wedding
Generally it's not a good idea to invite exes. Doing so has the potential to make the bride or groom feel uncomfortable; relatives and other guests might be distracted by it too. Talk to your fiancé about how you feel. Assure them that you are not opposed to his friendship with his ex but just don't want the reminder of their past relationship at your wedding. They should respect your wishes. Here's when it is alright to invite an ex to the wedding.
Inviting Out-of-Towners to the Rehearsal Dinner
Traditionally the rehearsal dinner consists of the bride and groom, all attendants and their spouses or partners, the parents of young attendants, the couple's close relatives, and the officiant and his or her spouse. However, in our increasingly far-flung society, with so many people traveling to attend weddings, inviting out-of-towners to the rehearsal dinner has become a trend.
No Gifts, Please
Although it seems odd that there is a "prohibition" against asking people not to bring you gifts when all you are trying to do is be thoughtful, there is a reason. The moment you mention gifts, you put an emphasis on gifts, which is the opposite of your intent. Here's how to properly request no gifts at your wedding.

Wedding Invitation Replies
A guest's first duty is to respond promptly to any wedding invitation. Check your schedule and consult with anyone else included in your invitation, then make your response as soon as you can. If you cannot make it and respond promptly, the couple will have time to invite someone in your place if they wish. Learn more about Wedding Invitation Replies here.
How to Word a Wedding Response Card
Response or reply cards are included with a wedding invitation to give you an accurate guest count for the reception. They are not used for ceremony-only invitations. The card and envelope are engraved or printed in the same style and paper stock as the invitation, but in a smaller size. Often they are included as part of an invitation set. Here's how to word a wedding response card.
How to Handle Missing or Extra RSVPs
The first important obligation a guest has upon receiving a wedding invitation is to respond immediately. If your invited friends and family didn't complete this simple task, you'll need to get on the telephone (or to solicit the help of your mom, mother-in-law to-be, or bridesmaids) and politely ask these guests if they plan to attend. Here's how to handle RSVPs with uninvited guests.
When a Guest's RSVP Includes Uninvited Children
There are those parents who go right ahead and write their children's names on the response card, some doing it intentionally, believing they ought to have been invited in the first place (untrue); others truly believe the children are included. What should you do when a guest's RSVP includes uninvited children?
Categories
Recommended Articles