Wedding Etiquette for Professionals
Emily Post's Wedding Etiquette for Professionals is a course on all things wedding etiquette. Whether you choose to take the program virtually online or in-person (when safety allows). The goal of our program is for participants to walk away with an understanding of both the standards and traditions of wedding etiquette, as well as an understanding of and confidence in how etiquette can help you build and strengthen your relationships with both clients and vendors. This course is perfect for wedding planners, consultants, event managers and vendors.
Online Program: We are pleased to now offer Wedding Etiquette for Professionals as a one-on-one online training option. After registering you will receive your materials and schedule one-on-one sessions with Lizzie Post.
In-person Program: When safety allows for in-person gatherings we host an annual in-person Wedding Etiquette for Professionals program in our hometown of Burlington, Vermont. Attendees fly in the day before the program and are treated to a day of food, instruction and discussion. The course begins with a full buffet breakfast, followed by a morning of instruction, a four-course luncheon, and an afternoon of instruction and then photos and certificates.
Program Fees:

Online: $975 per person, we ask that payment is received in full prior to your first session.

In-person: $1,200 per person and payment must be received in full by the Friday three weeks prior to the training.
Program Materials:

Slide-by-slide leader's guide (binder with all materials from the program)

A loaded thumb drive
Copies of three Emily Post wedding etiquette books
One-hour coaching session with Lizzie Post
Certificate of completion
Cancellation Policy: Fifty percent (50%) of the program fee is refundable up to ninety (90) days prior to the training; the remaining fifty percent (50%) may be applied to a future training. After a ninety (90) day cut off period, one hundred percent (100%) will be retained; you will be considered paid in full for a future training should not be able to attend or complete your training.
Ready to register? Click here to fill out a registration form.

Accommodations: TBD once in-person courses resume
In-person Training Travel Logistics: If you are flying in, you will want to fly into Burlington International Airport (BTV). Arrive the Friday evening before the training begins. The training begins at 8:00 am and ends by 5:30 pm. Accommodations located in Burlington, South Burlington, and Winooski will all be within a short car ride to the training. There are multiple transportation options in the greater Burlington area. Typically the trainings are held at either the Burlington Country Club, or the Vermont National Country Club (subject to change.)
For more information, or if you have any questions, please contact:

Seminars@emilypost.com or leave a voicemail at 802-860-1814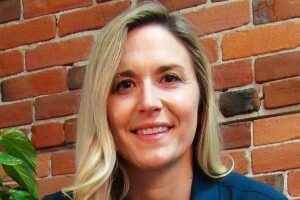 LIZZIE POST

Lizzie Post is the great-great-granddaughter of Emily Post and a co-author of Emily Post's Etiquette, 18th edition, Emily Post's Wedding Etiquette, 6th edition, The Etiquette Advantage in Business, 3rd edition, and Great Get-Togethers. She is also the author of How Do You Work This Life Thing? She is the co-host of Awesome Etiquette, a podcast from American Public Media, and she has spoken across the country sharing etiquette advice about technology, finance, and lifestyle topics.
Contact Us

Find out how The Emily Post Institute can work with you to build meaningful training experiences that encourage audiences to use etiquette as a tool for personal growth. Cultures of civility and respect begin with small actions.

Please contact Daniel Post Senning for more information on program details, online and in-person availability, and pricing by filling out our contact form. Training@emilypost.com